Juki "Kirei" HZL-NX7 Next Generation Long Arm Sewing and Quilting Machine
Juki
SKU:
HZL-NX7 Kirei
Availability:
Ships within 24 Hours!!!
With a decades-long commitment to producing durable, high-performance sewing machines, Juki introduces the amazing HZL-NX7, termed the "next generation of home sewing machines. Given the name "Kirei" which stands for beautiful, the HZL-NX7 long arm quilting and sewing machine is one of Juki's most advanced and equipped models yet.
The Juki HZL-NX7 has all the features of a professional sewing machine wrapped into a tabletop long arm quilting machine. It offers an amazing 351 decorative and utility stitches for any project, 20 buttonholes, and 4 alphanumeric monogramming fonts. Stitches are length and width adjustable for customization, easily selected with the large touchscreen interface, and storeable in machine's memory. Juki's special stitch and buttonhole technology ensure that every stitch made on any fabric is perfect.
In addition to stitch adjustment, the color touchscreen is used for easy adjustment and programming of the needle position, thread tension, presser foot pressure, foot control functions, drop feed system, and more. Everything can be controlled from this central location, no buttons or dials necessary. The body of the machine is clean and streamlined. The entire user instructions can also be accessed on the screen using the touch panel.
Sewing with the HZL-NX7 couldn't be easier with its BOX smart feed system and pivot function presser foot function for pivoting around corners with the needle down. Additionally, the HZL-NX7 is equipped with a multi-functional foot control that has a programmable switch to one side. The switch can be programmed to activate any of seven important functions including reverse stitching, presser foot lift, and thread cutting so a sewist' hands never have to leave the fabric.
Beyond its many amazing features, the HZL-NX7 offers a large workspace for easily handling larger projects like quilts. There is a full 12" to the right of the needle, more than many other comparable machines. The large 22.4" x 13.76" worktable is brightly lit by 4 adjustable built-in LED lights that shine over the work surface and the needle area. The slide-on worktable covers a large accessory storage compartment for conveniently keeping all the parts included with the machine. The size of this long arm is ample enough to work on all but the largest rolled fabrics while still being convenient enough to function as a standard tabletop sewing machine.
The HZL-NX7 comes with a dozen different utility and specialty presser feet for a variety of projects, a touch pen for the control screen, straight stitch throat plate and feed dog, foot control with switch, knee lift lever, set of needles, quilting guide, spool caps and pin, cleaning tools and supplies, and more. A soft case is also included.
The Juki HZL-NX7 long arm sewing and quilting machine comes with a 5-year warranty on mechanical parts, 2 years on electronic parts, and a 90-day warranty on labor and adjustments.
The Juki HZL-NX7 Kirei Long Arm Sewing and Quilting Machine - A Step Above The Others!
Key Features:

Color Touch Panel: Allows you to change settings such as thread tension, presser foot pressure, pivot function, drop feed system, and automatic thread trimming with one touch. Additionally, you may select, combine, and save your favorite stitches on an easy-to-use, full-screen list of stitches!

Juki Dual Feed: The dual upper feed dogs can be installed and removed in a single step. Engage the Juki Smart Feed dual feed function to move the top layer of your fabric in sync with the lower layer. Adjust the feed amount by 0.2mm for beautiful stitching without worry of shifting layered fabrics.
Easy to Use Digital Tension: Sew beautiful seams without shrinkage even when sewing fine or dense stitching. Needle thread tension can be easily set on the touch panel screen and even be stored in memory and you can recall your favorite tension settings with the touch of a button!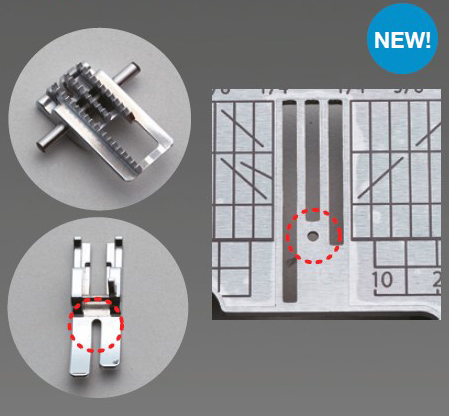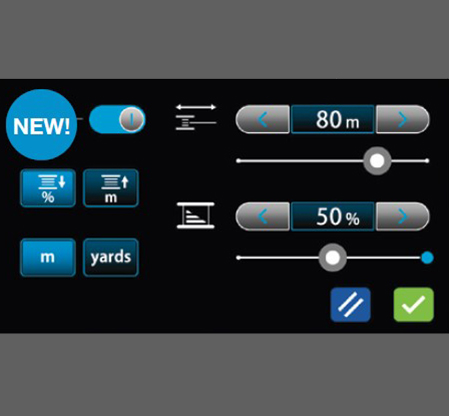 Interchangeable Straight Stitch Feed System: Create perfect stitches from beginning to end. The straight stitch throat plate, feed dogs and presser foot can be replaced in on easy step. Cleanly sew the beginning of stitching, curves and single lap stitching.
Bobbin Thread Counter: The amount of bobbin thread used is counted based on the stitch length and number of stitches sewn. Bobbin thread breakage can be prevented since you will be warned when 20% of thread remains.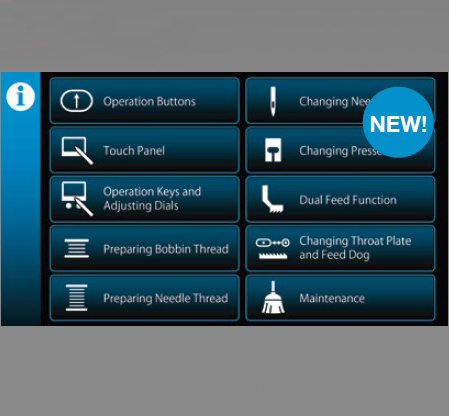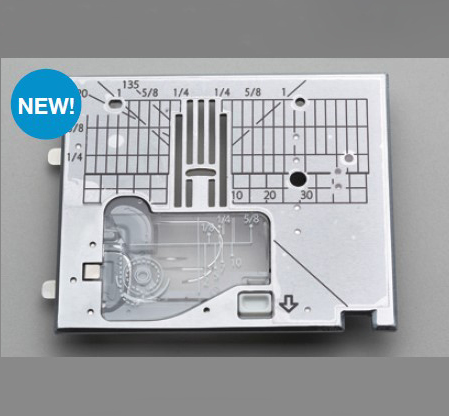 Instruction Guide: From the touch panel you can view instructions on how to operate your machine. Without having to look at your instruction manual you can specify basic settings!
Throat Plate with Guide: An angle scale is provided in addition to a fine guide scale. Sewing at an accurate position from the fabric edge as well as piecing are both made easy.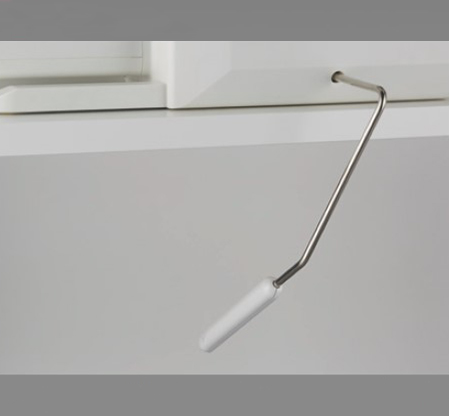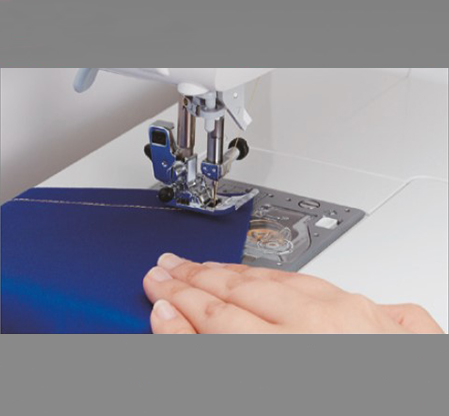 Electronic Knee lifting Control Mechanism: Raise the presser foot with a light knee operation.
Presser Foot Pivot Function: Sew corners or pivot with ease, when you resume sewing the presser foot automatically lowers for continuous smooth sewing. When you stop sewing, the needle stops in the down position and presser foot automatically lifts to allow for fabric movement.

Check Settings and sewing conditions numerically and graphically. The various settings can be specified intuitively.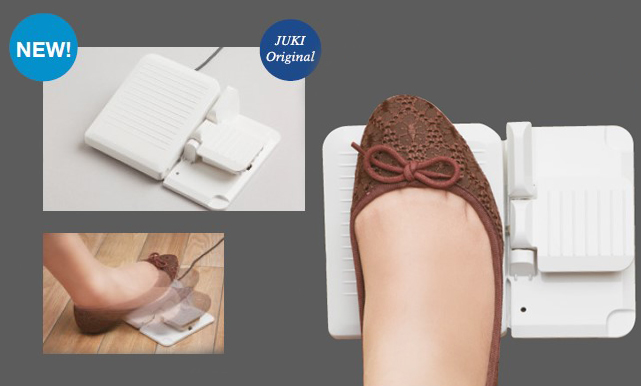 Foot Controller with Separate foot switch: By sensing the pressure of your foot, the controller can stop the needle exactly where you want it. The controller also responds accurately when you want to sew a single stitch. The foot switch can be attached to either the left or right side of the controller and can be set to perform one of seven operations. 1. Reverse Stitch 2. Lock Stitch 3. Half Stitch 4. Single Stitch 5. Lift Presser Foot 6. Thread Cutting 7. No Function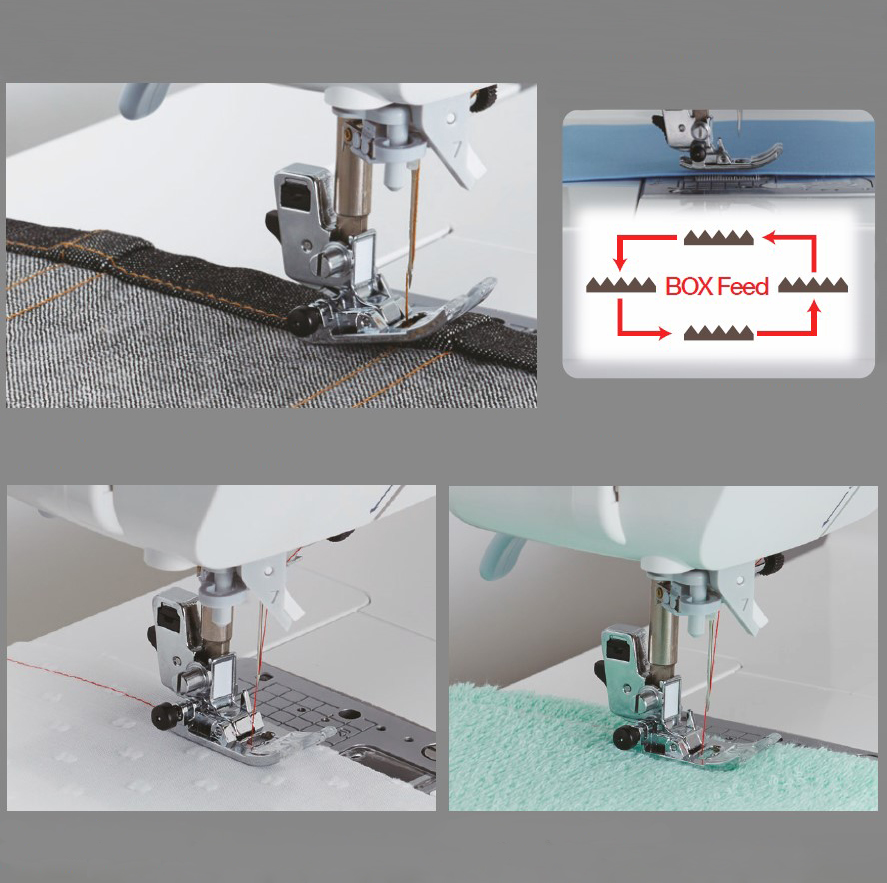 The Juki Industrial Box feed system has been brought to the home sewing machine. Our Box Feed allows you to create high-quality stitches on all types of fabrics. The Box Feed system stays in contact with your fabrics longer for a consistent, reliable seam every time. Evenly sews thick fabrics, like folded denim into three layers, effortlessly. No fabric shrinkage even sewing on light weight cotton and evenly feeds hard-to-sew high pile fabrics like towels.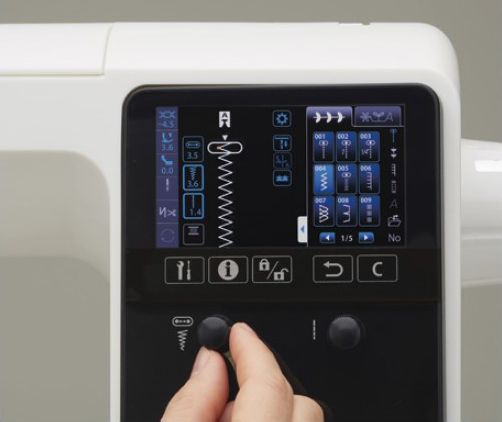 Stitch Adjustment/Needle Position Dials: The dials make it easy to adjust the stitch width and length (roughness) as well as the needle position (stitch baseline). The dials also allow you to make subtle adjustments to the stitch width and length while sewing.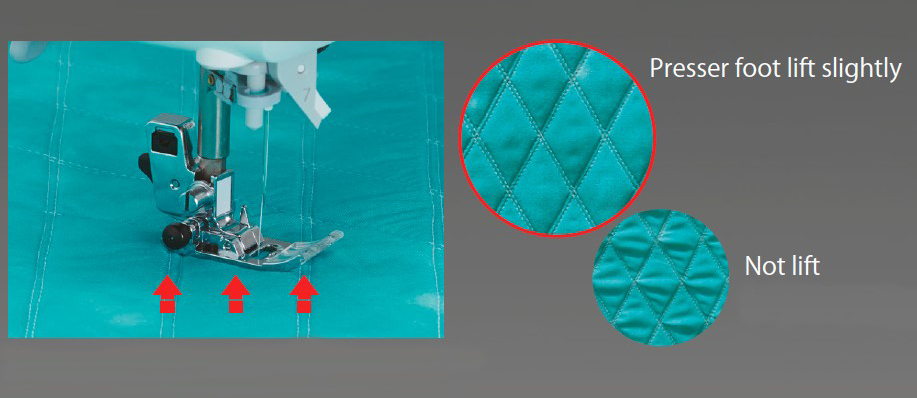 Micro-lifter Prevents Uneven Seams: Pressure on layers can create uneven seams, you can sew with the presser foot slightly floated!
Compact storage for a wide variety of accessories: All accessories can be stored in the accessory box and are immediately available when needed.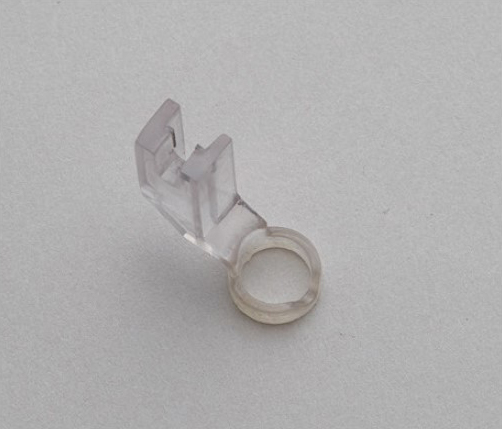 Free-motion sewing/Sewing using a ruler: Since the feed dogs can be lowered from the touch panel, you can easily switch to free-motion sewing. The transparent and ruler-compatible quilt presser foot that is included provides even more quilting possibilities.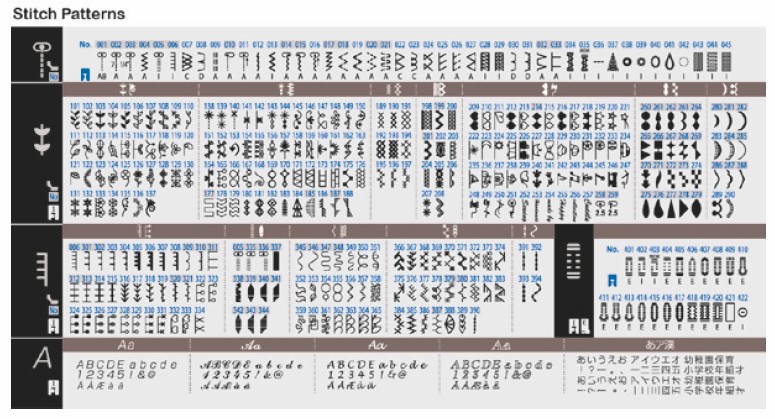 Equipped with 351 stitch patterns and 4 fonts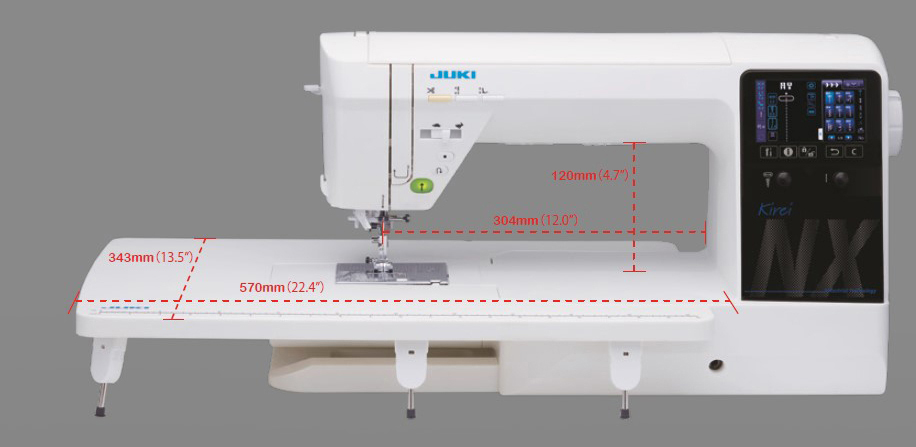 Large Illuminated Sewing Space: Dual LED lighting to illuminate the 22.4" x 13.6" workspace (with attached sewing table) with additional 2 lights over the needle for extra light. Brightness levels can be adjusted as needed.

Easily Create and Enjoy beautiful buttonholes: There are 20 types of buttonholes available for your needs and now it's possible to adjust the cutting width in 3 steps. Use the buttonhole sensor system for optimal feed on all types of fabric. You will love the one step buttonhole as it measures and evenly sews on both the right and left sides. Automatically works in optimum order for a perfectly finished buttonhole.
Included Accessories:
Standard presser foot (A)

Straight stitch presser foot (S)

Zipper presser foot (B)

Overcasting presser foot (C)

Blind stitch presser foot (D)

Buttonhole presser foot (E)

Manual buttonhole presser foot (I)

Open toe presser foot (O)

Patchwork presser foot (P)

7mm presser foot(7)

Quilt presser foot (for Ruler) (Q)

Throat plate for straight stitch

Straight stitch feed dog

Touch pen

Bobbin (4)

Needle set

Quilt guide

Auxiliary spool pin

T-shape screwdriver

Ripper

Cleaning brush

Spool cap (large)

Spool cap (Middle)

Spool cap (Small)

Foot Controller

Knee-lifting lever

Power cord

Wide table

soft case

Instruction manual
Manufacturer's Warranty
5 Years Against Mechanical Defects

2 Years Against Electrical Defect

90 Days Adjustments on Defects in Material or Workmanship.